This entry also by my wonderful spouse Amber. –Ed
---
Driving to Camden Maine was cold and rainy. Since we were about to board a sail boat for four days, this matter weighed on us quite heavily. GPS to save the day, we typed in REI with no luck whatsoever. Josh got clever and tried L.L.Bean, who would have thought that it would lead us to the preppiest outlet centers in the world – Freeport, Maine. We're talking L.L. Bean, Abercrombie and Fitch, American Eagle Outfitters, North Face, Bath and Body works, Yankee Candle and not to forget, The Gap. I hadn't seen a such a large collection of white suburban middle class men bored out of their minds in a long time. Dragging their polo clad children behind them, we rushed by the find some rain worthy wear. All we really needed was two rain proof jackets, and even though we were in the outlets, it was becoming increasingly obvious that we weren't going to get out of this hell without paying up to $300. It was a sad day for me, I knew what that $300 could have bought at say….Target! But it was going to make for a more enjoyable boat trip so I grit my teeth and now I'm a happy owner of a bright red, insulated and oh so snuggly Cloudveil jacket. Straight from Jackson Hole, Wyoming. Not that the fact that is came from Jackson Hole makes me love it anymore or any less. However, it should be handy if we ever get back into that backpacking stuff Josh talks about every once in a while.
When entering the town of Camden I couldn't help imagining scenes from countless Steven King books. The misty atmosphere,the lingering fish hooks and this unshakable,erie feeling and everyone knows you and all the busniess that you're up to. The eyes of the local fisherman seemed to follow our bright yellow pontiac with suspicion. This was all in my head, as Camden is a town the screams lazy comfort, with every step you take down it's tight winding streets. Easy living on the coast, where everyone's best friend is a local lobster. Just like our tour guide from Luray, we were anxiously awaiting the arival of J.K. Rowling's next Harry Potter adventure. As we walked towards or dinner destination for the evening, before boarding the ship, we found a local book store and pre-ordered a copy of her final classic. 4 days at sea will be quite relaxing, but oh the joy that awaits these sea legs when we return.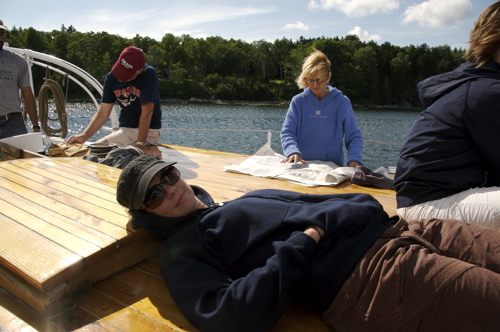 I was nervous, I couldn't explain why. I saw this line forming right outside of our ship "The Mercantile" and I was getting shy, like my first day of school. All this way to get to our destination and I didn't really want to play nice in the sand box with all the other kids. What if I really disliked them? What if they were hillbilly folk that just didn't understand me?i It was too late!! We were committed, paid in full and ready to board. So I did it, after all, i'm an outgoing person right? Tied up my boot straps and said hello to my crew mates. Turns out, I had nothing to be worried about.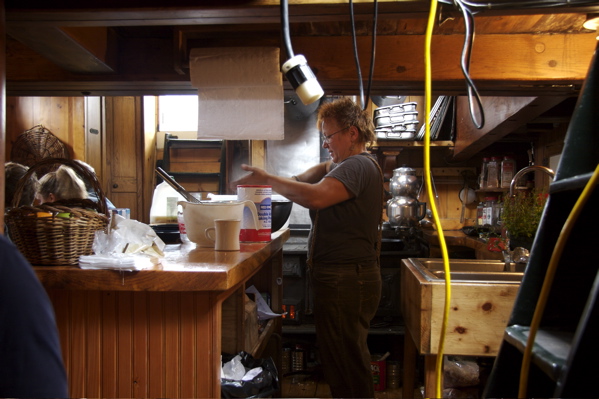 The boat is classic, feels like something my ancestors would have ridden over in to the free land. Small galley where food is prepared on a constant basis on an incredible cast-iron wood stove, and a fun but competent crew that made us feel welcome from the first steps aboard. There's almost no power on board – some batteries that light up basically flashlight bulbs in our rooms. No power for the plumbing, we get to pump our water and pump to flush the toilet. There's no motor on the boat – if we need to go somewhere, we have to get pushed by a "yawl boat". Then there is our room…or shall we say cozy hole. It's pretty much the smallest space I have every slept in. I'm not complaining in the slightest, I've heard too much of that for one lifetime. You'd think us Americans were spoiled or something…. ironic pause. Hello folks!! If you choose to spend four days on a 100 year old sailboat….don't expect rooms that you would see on Royal Caribbean. Needless to say, it's an adventure, and so far we are loving every minute of it. - Amber